Online Mathematics Teacher Resources
Curriculum based resources for Kindergarten to Year 6 Primary.
Syllabus Based Video Lessons for Grades K – 6
Study Space provides essential Mathematics numeracy support to all students that may require additional assistance with their learning needs. The Study Space School Portal supports the learning needs of all students by using highly engaging instruction and delivery of online video lessons with interactions that keep students engaged while learning in the classroom and at home.
Some of our most popular lessons covered in the Maths Syllabus from Kindergarten to Year 6 are:
3D Nets, 3D Shapes, Addition, Algorithms, Angles, Area, Chance, Data, Decimals, Diagrams, Division, Expanded Notation, Fractions, Length, Money, Multiplication, Numbers, Order of Operations, Percentages, Perimeter, Place Value, Position, Probability, Statistics, Subtraction, Tables, Time, Volume and Word Problems.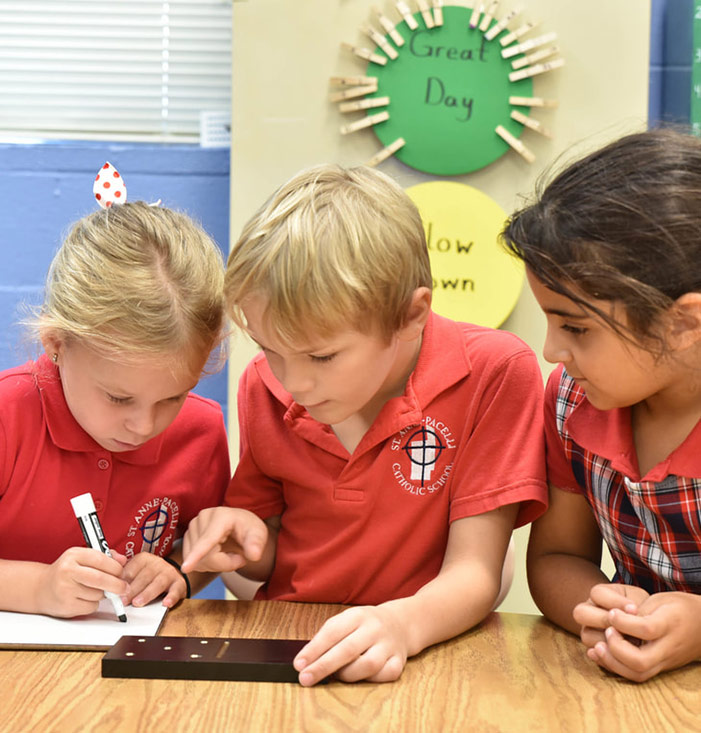 Mathematics Topics Covered
Kindergarten
Writing my 123's – 

Number / Writing

Fractions 1/2 – 

Number & Algebra

Addition: Friends of 10 – 

Number & Algebra

Repeating Patterns – 

Number & Algebra

2D Shapes – 

Measurement & Geometry

Days of the week – 

Measurement & Geometry
Year 1
Addition – 

Numbers & Algebra

Subtraction – 

Numbers & Algebra

Months – 

Measurement

Pop Quiz– 

Measurement

2D Shape Lines – 

Measurement & Geometry

Identifying Money – 

Numbers

Division: Equal groups – 

Numbers

Fractions 1/2 – 

Numbers

Addition: Bridging over the decade – 

Numbers
Year 2
Missing Numbers – 

Numbers

Jump Strategy – 

Numbers

Split Strategy – 

Numbers

Fractions – 

Numbers & Algebra

Divisions with remainders – 

Numbers

Money: sorting & counting – 

Numbers

Addition – Base 10 – 

Numbers

Subtraction – Base 10 – 

Numbers
Year 3
Addition: Jump Strategy – 

Numbers

Subtraction: Jump Strategy – 

Numbers

Addition: Split Strategy – 

Numbers

Subtraction: Split Strategy – 

Numbers

Fractions 1/3 & 1/5 – 

Numbers

Area: Regular shapes – 

Measurement

Telling the Time – 

Measurement

2D Shapes & properties – 

Measurement

Data Collection – 

Statistics

Position Grids – 

Measurement

3D nets – 

Measurement

Length mm, cm & m – 

Measurement
Year 4
Simple Sentences – 

Grammar

Addition Algorithm – 

Numbers & Algebra

Subtraction Algorithm – 

Numbers & Algebra

Expanded Notation – 

Numbers & Algebra

Multiplication Tables – 

Numbers & Algebra

Division with Factors – 

Numbers

Division : Word Problems – 

Numbers

Comparing Fractions – 

Numbers & Algebra

Classifying Angles – 

Measurement & Geometry

Tessellating Shapes – 

Measurement

Area: Irregular shapes: Converting – 

Geometry

Perimeter – 

Measurement & Geometry

Data: Survey – 

Statistics & Probability
Year 5
Fractions – 

Numbers

Place Value – 

Numbers

Multiplication 3 by 1 digit – 

Numbers

Short Division – 

Numbers

24 hour time – 

Measurement

3D shapes & properties – 

Measurement

Data: Dot plot graph – 

Statistics & Probability

Position with compass – 

Measurement & Geometry

Area using a formula – 

Geometry

Fractions on the number line – 

Numbers
Year 6
Word problems money – 

Numbers

Multiplication 3 by 2 digits – 

Numbers

Order of Operation – 

Numbers

Decimals: Subtracting – 

Numbers

Decimals: Adding – 

Numbers

Percentages – 

Numbers & Algebra

Fractions in a diagram – 

Numbers & Algebra

Volume & Capacity – 

Measurement

Area (triangle) – 

Measurement

Position with compass – 

Measurement & Geometry

Reading timetables & itineraries – 

Measurement

Data: Two-way table – 

Statistics & Probability

Chance freq vs probablity – 

Statistics & Probability